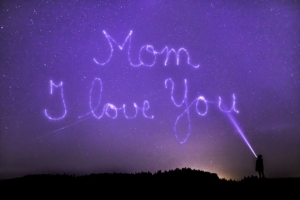 For those of you like me who have seen our Mothers pass on too soon in life, Mother's Day brings with it mixed feelings of sorrow, but irreplaceable, cherished memories. For the rest of you who can still celebrate this day with your mother, we hope and wish for you a wonderful Mother's day.
Below are a couple of favorite quotes we have chosen that reflect what our Moms have meant to us:
"All that I am or hope to be, I owe to my mother." – Abraham Lincoln
"There is something about losing your mother that is permanent and inexpressible – a wound that will never quite heal."     – Susan Wiggs
"What is more powerful than the love of a mother? Perhaps only God's hand in answering her earnest pleadings on your behalf."  ― Richelle E. Goodrich
"I realized when you look at your mother, you are looking at the purest love you will ever know."  – Mitch Albom
"You are evidence of your mother's strength, especially if you are a rebellious knucklehead and regardless, she has always maintained her sanity."   – Criss Jami
"I do what I want, when I want… if my Mom says it's okay." – Unknown
"If I could be half of what my mother was, I'd be twice the man I am now."    – Craig D. Lounsbrough
"I look at the cake in my mother's arms and think: here stands the only person in the whole world who'd go to such trouble for fractious, ungrateful me."   – Sara Baume
"My mother is my best critic, and yet my strongest supporter." – Unknown
"The Lord gives a good many things twice over, but he don't give ye a mother but once."   – Harriet Beecher Stowe
"You are never old enough to lose your mother."    – Linda Kinnamon RN
"Mother's hug- The only drug that works every time, costs nothing and has no side effects."   – Hassaan Ali
(Note: We apologize if any of the author credits for these quotes are inaccurate.)
https://www.extremecoatingsolutions.com/wp-content/uploads/2019/05/mothers-day-3312770_640.jpg
426
640
Extreme Coating Solutions
http://www.extremecoatingsolutions.com/wp-content/uploads/2017/03/ecs_logo-webv2.jpg
Extreme Coating Solutions
2019-05-10 13:31:54
2019-11-13 08:59:56
To the greatest Superhero of them all… Happy Mother's Day!