At Extreme Coating Solutions (ECS), we typically characterize ourselves as a "functional" coating applicator. In other words, we apply coatings that not only protect the surface, but also enhance that surface by giving it non-stick or heat dissipation "functional" properties (or both). As a result, we get to see a wide range of product parts for an equally wide range of unique applications.
Acrylic Teeth Replicas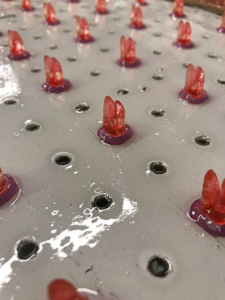 One unique project that we provide the final finishes for at our facility involves acrylic teeth replicas used as teaching tools for dental students. In the beginning, there were a number of different coating options we tested to achieve our client's specific criteria. Collaborative work with the client included the development of customized painting jigs, which not only minimized variables that could result in quality issues, but also minimized the handling required to process the parts.
These tooth replicas are going to be teaching tools, so cosmetic appearance matters. The students need to be able to see the intricate veins and features within the roots of each tooth.
We ultimately settled on Dyna-Tek's DT-5000 clear polymer coatings. Its combination of visual clarity, relatively fast ambient cure time, and hardness allows us to consistently deliver high-quality finishes on each tooth.
This project didn't require any of the industrial functionalities that most of our projects do; such as chemical-resistance, non-stick properties, heat and/or abrasion resistance… this client simply required consistently good looking teeth replicas.
Tooth be told, we are good at the cosmetic stuff too.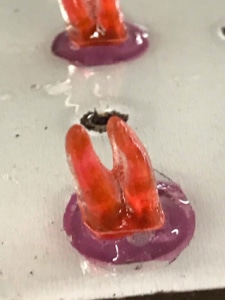 https://www.extremecoatingsolutions.com/wp-content/uploads/2019/01/Tooth-Be-Told-01.jpg
800
600
Extreme Coating Solutions
http://www.extremecoatingsolutions.com/wp-content/uploads/2017/03/ecs_logo-webv2.jpg
Extreme Coating Solutions
2019-01-14 12:45:23
2020-04-20 14:02:24
Tooth be told, we are good at the cosmetic stuff too.