Only the Paranoid Survive
Times like the ones we are living with right now can make anyone a little paranoid. People who know me well, also know that I can be a little paranoid whenever potential threats arise in business and life in general. For most, getting the adjective "paranoid" used to describe them isn't an endearing compliment. However, the teachings of Andy Grove, one of my business idols, suggests that some element of paranoia in business; especially during times like these is imperative.
Mr. Grove – Only the Paranoid Survive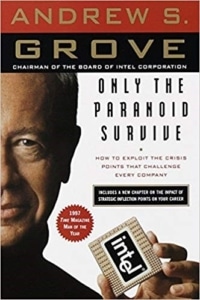 As many of you already know, Mr. Grove was a brilliant visionary and significant reason for the meteoric rise of INTEL Corporation. Mr. Grove also wrote several books; one of which; "Only the Paranoid Survive" has influenced me over my years in  business. In this book,
Mr. Grove refers to the term "Strategic Inflection Point"; he used to describe those moments business leader must face when a significant change occurs in their industry and threatens their very existence. In these moments, the ordinary rules of business have been made irrelevant and if immediate adjustments and changes to adapt to these changes aren't made, companies can perish.
Looking Ahead
While the death toll of the Coronavirus is unlikely to rival tens of millions of people that perished during the 1918-19 Spanish Flu, the financial impact of the Coronavirus will negatively impact almost everyone for years to come. New rules are being developed that will require adaptation by not only industry but society in general.
As 19th Century German philosopher Friedrich Nietzsche said, "That which does not kill us makes us stronger." (provided we learn from it).
Best wishes for good health to everyone.
https://www.extremecoatingsolutions.com/wp-content/uploads/2020/03/Book-Cover-Only-the-Paranoid-Survive-featured.jpg
450
600
Extreme Coating Solutions
http://www.extremecoatingsolutions.com/wp-content/uploads/2017/03/ecs_logo-webv2.jpg
Extreme Coating Solutions
2020-03-27 06:00:06
2020-03-19 15:11:49
Only the Paranoid Survive