Release Coating for Overflow LDPE Adhesive Resin Bin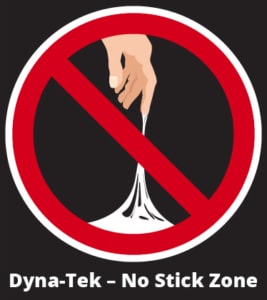 One of Extreme Coating Solutions (ECS) clients inquired whether we could provide a semi-permanent coating that would allow them to discharge the remaining LDPE resin they used for laminating large animal feed bags.
The challenges were:
The resin temperature at the time of discharge is 550⁰ – 650⁰ F which is more than fluoropolymer coatings can sustain repeatedly.
The adhesive additive, LOTADER® made by ARKEMA does its job well and would stick to most surfaces. Meaning if our client used their metal collection bin, the resin would be virtually impossible to remove once it cooled down.
The ECS Solution:
ECS applied a 2-coat system using Dyna-Tek's DT-480 heat dissipating base coat, and topcoat with DT-555 clear coat. BOTH coatings are designed to handle temperatures of over 1000⁰ F and have excellent hydrophobic and abrasion-resistant properties.
The durability of this coating system is has performed admirably as it just passed 1-year of service life since we coated it!
For information on how we can solve your coating challenges, visit www.ExtremeCoatingSolutions.com or email us at info@nullecs-ww.com or call Jim Stuelke at 816.381.9901.
https://www.extremecoatingsolutions.com/wp-content/uploads/2020/05/Dyna-Tek-No-Stick-Zone-Featured.jpg
421
580
Extreme Coating Solutions
http://www.extremecoatingsolutions.com/wp-content/uploads/2017/03/ecs_logo-webv2.jpg
Extreme Coating Solutions
2020-05-15 08:48:10
2020-05-15 08:48:10
Release Coating for Overflow LDPE Adhesive Resin Bin