Coating Challenge: Chemical Resistance for Copper Heating Tubes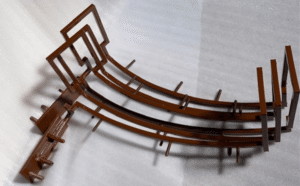 Coating Challenge: Coating for copper heating tubes requiring excellent chemical resistance, thermal conductivity, and a thin film.
Recently, one of our clients called with a project that required:
A thin film coating of 1-2 mils (this is thinner than the average human hair.)
Copper substrate. Because copper oxidizes as it heats up, coatings such as fluoropolymers (such as PTFE non-stick coatings) which typically cure at 500° F cannot be used as the copper oxides will result in the coating delaminating (peeling off).
Chemical resistance. The proprietary process results in some corrosive splatter that will attack the copper.
One exception in the fluoropolymer world could have been the ETFE and ECTFE chemistries, however these tend to be both thicker coatings (15 – 45 mils), and thermally insulative. But the bigger issue was the client wanted to be able to re-coat these expensive parts in the future, which is not easy with ETFE/ECTFE chemistries, especially over copper.
Our Solution:
We ended up recommending HERESITE's P-413, which is a phenolic epoxy coating. HERESITE has been making coatings for copper products since 1964, when they were the first to apply coatings on aluminum finned, copper-tubed heat exchangers; mostly used in air conditioning and refrigeration systems operating in medium to severe corrosive environments.
Since its installation, our client is reporting excellent results and followed up with additional orders.
For more information on HERESITE and their products, here is a Product Data Sheet (PDF).
https://www.extremecoatingsolutions.com/wp-content/uploads/2021/04/Picture1.png
372
600
Extreme Coating Solutions
https://www.extremecoatingsolutions.com/wp-content/uploads/2023/04/2023-ECS-Logo-340x156-1.png
Extreme Coating Solutions
2021-04-19 20:02:42
2021-04-19 20:02:42
Coating Challenge: Chemical Resistance for Copper Heating Tubes