Case Study Challenge: Circular saw used to cut PEEK, glass-filled nylon and other materials experienced down-time, cut quality issues.
After seeing the benefits of he Dyna-Tek mold release coatings on their extruding dies, ZL began to look for other areas in operations where the DT products could improve production.
PROBLEM: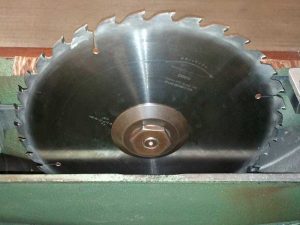 One area was their cutting saw station. The problem here was downtime and cut quality due to the heat build-up from the friction on the side walls of the saw blade as it cut through their large blocks of materials. Consequently, the blades would build up material over time which would lead to the operator stopping production to change out the blade.
Additionally, leading up to stopping the cut quality would continually diminish which left a lower quality appearance.
SOLUTION:
Dyna-Tek in conjunction with its approved applicator; Extreme Coating Solutions (ECS) coated one of ZL's blades with the DT-420, forced cured it at 450 deg. F for 45 min. and then put the blade back in service.
Because the DYNA-TEK clear-coating has a ceramic-chemistry component to it, this accomplished two things:
The ceramic element results in dissipating the heat faster than an untreated blade.
The high-release, low coef of friction of the DT-420 meant less drag on the side walls of the blade, meaning less friction; and consequently less heat build-up as well.
Both of these improvements meant a cleaner cut, and higher quality appearance.
Down-time was reduced as each blade saw 6X's longer service.
ZL's FEEDBACK:
"When cutting with the DYNA-TEK coated 18" saw blade we get less side buildup and melting due to friction.  This has extended our saw blade useful life and improved the cut quality which is highly important to the customer."

–        JOHN REYNOLDS, QUALITY CONTROL MANAGER
https://www.extremecoatingsolutions.com/wp-content/uploads/2017/05/ZL_SawBlade.jpg
600
800
Extreme Coating Solutions
http://www.extremecoatingsolutions.com/wp-content/uploads/2017/03/ecs_logo-webv2.jpg
Extreme Coating Solutions
2017-05-23 11:43:55
2019-11-13 08:59:58
ZL Engineered Plastics – Cutting (Saw) Blade Case Study